Principal's Message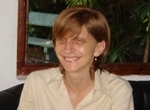 It is a pleasure to welcome you to the website of The Study, Colombo's only Sixth Form College. At The Study we are committed to serving the needs of 16-19 year olds preparing for the London GCE A-Level examinations with a view to proceeding to study at the world's top universities. We believe that A-Level education is so very distinct from all that goes before, that it is best pursued in the highly specialised environment of the Sixth Form College. Our highly qualified faculty provide an intense teaching and learning experience for students seeking outstanding academic preparation in the context of a small, caring community of learners.
The Study is the first College of its kind to be established in Colombo. It is unique in offering a teaching methodology and an academic community which acknowledges that A-level pupils are young adults. Encouraging them through an interactive process to take ownership of their own learning, The Study's faculty offers pupils the opportunity to acquire the skills of independent thinking and critical thinking crucial to success at university. It is this feature of our College that sets it apart from other institutions offering A-level instruction; we see the last two years of secondary study as a transitional time, during which school is over and university has not yet begun. In between lies an ideal space in which a schoolboy or girl may develop into a student of university calibre.
We consider preparation for university to be integral to the life and work of our College. Accordingly, pupils are guided on all aspects of university admission and this is handled personally by me. I very much enjoy helping students to find the university and the course of study best suited to their individual abilities and aspirations. This centralisation of the university application process has proved the most effective means to the apt and fulfilling tertiary placement of students; anyone joining The Study may be assured of the high priority attached to this.
In keeping with our belief in the value of creative and independent thinking, our extracurricular programme emphasises the communicative arts: public speaking, music, and drama are considered integral elements of our educational programme, as are the fine arts. We encourage each student to pursue the activities and the interests most interesting and compelling to them, in the belief that it is in nurturing creativity that we best develop young people of conviction.
I do hope you enjoy perusing our website, and that it gives you a sense of the character of The Study. There is of course no substitute for seeing the College in action, however, and we encourage you to come to see us in our centrally located premises at Mallika Lane... My faculty and students look forward to meeting you, and will be very happy to show you around.
Jill Macdonald, M. Phil. Oxon.
Principal